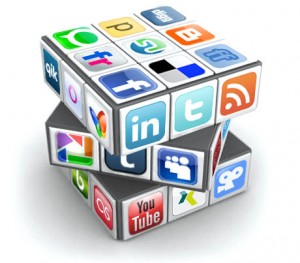 Social Media sites play a key role in establishing your internet presence and enhancing your SEO strategy. As of February, 2015 there are more than 200 major social media sites. Unlike any other marketing medium, social media has the ability to reach millions in seconds. In an increasingly competitive market, a real estate agent's ability to reach the largest group of people in the shortest amount of time plays a lead role in generating sales dollars. The web has restructured the way people do business; prospecting using only traditional methods like print and direct mail can leave you behind the curve.
Understanding how social media impacts website rankings is a complex concept. Successful and active social media campaigns typically correlate with good webpage rankings.
Understanding the causation is the complex part so we'd like to take a step back and suggest that while social media is not precisely SEO, it is a crucial part of an overall web marketing strategy. Social media engagement is directly linked with getting referring traffic to your site; more traffic increases the chances of gaining organic, inbound links.
More traffic can also impact the time spent on your site which can have a positive impact on how well pages rank. The list of social media sites is expansive and the tides of popularity turn depending on the whim of the masses. We'll take a look at some of the biggest and most widely used platforms and some of the up and comers in 2015. Here is a list that we feel is the most valuable for real estate professionals and can be easily implemented as part of an over-all marketing plan.
Google Plus
This is Google's very own social networking platform. Creating a personal and business page is an absolute must as many of the perks associated with good placement such as Google Places and Google Authorship are directly related to participation. Including industry relevant and authoritative people and businesses in your circles can increase your own relevancy. Being included in industry relevant people's and business circles can impact where your content shows up when a logged in user performs searches on Google for keywords.
YouTube (bought by Google in 2006)
With more than 800 million+ unique visitors and more than 4 billion hours of videos watched each month, YouTube has grown to be the 2nd most popular search engine on the web.  Beating out competitors like Bing and Yahoo, this Google owned powerhouse is a unique social community that will only continue to grow. Once only seen as a place to post family videos, cat tricks, and pranks; YouTube is now an exceptional tool to use for promoting your individual products, projects, listings, and company.
Facebook Business Page
This is a staple in social media marketing. Understanding the difference between personal and business pages is the most important aspect as search engines are only able to include a limited amount of personal profile information in the indices. Business page profiles can be viewed whether a user is logged in to Facebook or not. Marketing as a business has drawbacks currently because you cannot interact with other members of Facebook unless they have "liked" your business profile.
Twitter
Twitter is a great resource to use to drive traffic to social media posts, blog posts and web pages. It's great to use for content inspiration, personal branding and relationship building. Think of it as content marketing at the micro level. Google's current pattern for indexing tweets tells us what content they believe is most worthy. Google will now be indexing Tweets, and is therefore will be directly responsible for impacting SEO.
LinkedIn
Primarily a B2B platform, LinkedIn is a great place to network with other professionals and grow your referral base. With more than 200 million users, it is the largest professional network online. Developing this profile in the most professional manner is a must for anyone in the industry as it's publicly viewable when buyers or sellers research your name or your business.
ActiveRain
ActiveRain is a real estate niche-specific content management system (CMS) which requires a paid membership. Users can post and easily format blog entries which are published and automatically shared among potential homebuyers, investors, sellers and fellow real estate professionals. This is a top notch platform for marketing and is suggested for real estate professionals to support their site with quality, industry relevant backlinks.